Value of Purchasing a Used Luxury Car
Posted Friday, Mar 10, 2023
A car speaks volumes about your lifestyle and your personality in general. Therefore, you must choose a car that fulfills your everyday needs while catering to your personality. Sadly, not having the means might make you think that you'll never fulfill your dream of having a Mercedes or an Audi on your driveway.

Think again! With the option of buying used cars, you can make your dream of owning a luxury car a reality.
4 Reasons Why You Should Consider Purchasing a Used Luxury Car
1.    Low Prices
The main reason to opt for a pre-owned luxury vehicle is that you get more value for less money. It is even better than buying a brand-new economy car.
Anyone driving a pre-owned Mercedes E will tell you how their experience was better than driving a new Honda City or a Toyota Corolla.
2.    Less Depreciation
A car loses value with each passing mile, but the steepest declines are the quickest. Some cars can lose over 40% of their value within the first year.
Less depreciation is one reason buying a used luxury car is a good idea. A used luxury car over four years of age depreciates far less than a brand-new economy car.
3.    Better Safety Equipment
Interestingly, many advanced safety features we take for granted in economy cars were introduced first in luxury vehicles.
Some of the best safety features in used luxury cars include backup cameras, airbags, rear-cross traffic alerts, blind-spot monitors, and smart cruise control.
Used luxury cars also offer advanced features like keyless entry and push-button start technology. Sometimes, a used luxury car has more advanced features than a new economy car.
4.    Advanced Luxury and Convenience Features
Like safety features, several luxury and convenience features were also introduced in luxury cars before they were added to economy cars.
These luxury features include automatic climate control, electric starters, power windows, GPS navigation, power mirrors, self-dimming headlight systems, and tailored audio systems.
Therefore, if you want to experience it all, you can get the same features in a used luxury car without the added depreciation of a new economy car.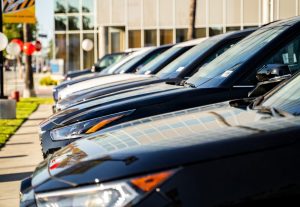 Top Factors to Consider When Purchasing a Used Luxury Car
Pre-Purchase Inspection
Make sure your deal includes a comprehensive pre-purchase inspection. A trusted dealer will check the car from the rims to the roof for the slightest signs of trouble.
A full-fledged inspection costs, at most, $100. If you encounter an issue or two, use them to negotiate a lower price.
Check the Papers and Documentation
Here are the documents you must check before purchasing a used luxury car.
Registration certificate
Insurance papers
Sales invoices
Emission certificate
Road tax documents
NOC from the financing company
The registration certificate must contain important things like changes to the engine and even trivial changes like the change of body color.
If the car has been in an accident, you must avoid it, as it will consume much of your hard-earned cash.
By demanding these documents, you'll ensure the car isn't stolen and belongs to the seller.
Set a Budget
Setting a budget helps you make intelligent financial choices and prevents overspending. When setting a budget for a used luxury car in the US, always factor in the insurance and other expenses.
It is easy to get carried away at the hands of a zealous salesperson for a heavily priced used luxury car.
Moreover, if you are considering financing, keep in mind that interest rates on used luxury cars can be higher than those on new ones. By setting a budget, you will stay on track and only pay what you should be paying.
Availability of Spare Parts
Stories of luxury cars being grounded on the driveway are common. The most common reason is the unavailability of parts.
If your car manufacturer imports its parts from other countries, they are subject to higher taxes, and you will pay much more.
Therefore, make sure the spare parts of your second-hand luxury vehicle are readily available in the marketplace.
Driveability
The most important thing to consider when buying a used luxury vehicle is how it drives. Before handing the money to the seller, check how it drives in varying conditions.
Drive it on the highway and in hilly areas. Moreover, spare 10–15 minutes to check the driveability, the supporting features around the steering wheel, and how they perform in different driving conditions.
Don't hesitate to say "no" immediately if you stumble onto something fishy. You don't have to purchase the car that same day.
Modifications
Some modifications are visible; others are not. Here are some easy ways to check for modifications in a used luxury car.
Check for paint quality and dents on the body.
Inspect the engine sound, the exhaust sound, the air filters, and the exhaust pipes.
Check if the tires are authentic.
Financing Options
Car loans are a good option for purchasing a used luxury car. Several banks now offer low-interest auto loans and other amazing benefits.
However, car loans have approval requirements that the buyer must fulfill. Moreover, remember the documentation you must present before applying for a car loan.
Final Thoughts About Used Luxury Cars
Finding the right dealership is the biggest obstacle to purchasing a high-quality, used luxury vehicle. While some dealerships try to sell low-value modified cars, others charge ridiculously high prices.
At Globul Enterprises, we provide our customers with the right value for their money. We allow our clients to comprehensively inspect a car before handing them the keys.
So, if you are shopping for a used luxury car in Las Vegas, NV, Globul Enterprises is the place for you. Visit our website today, or call (702) 409-3000.